Are you a pet owner in Singapore looking for a unique adventure to enjoy with your furry companion? If so, consider setting sail on one of Singapore's pet-friendly cruises. We totally get the whole "let's have fun with our pets" vibe. In this blog post, we'll take you on a journey through the top pet-friendly cruises in Singapore, ensuring both you and your four-legged friend have an unforgettable experience.


1. Royal Albatross - Luxury Tall Ship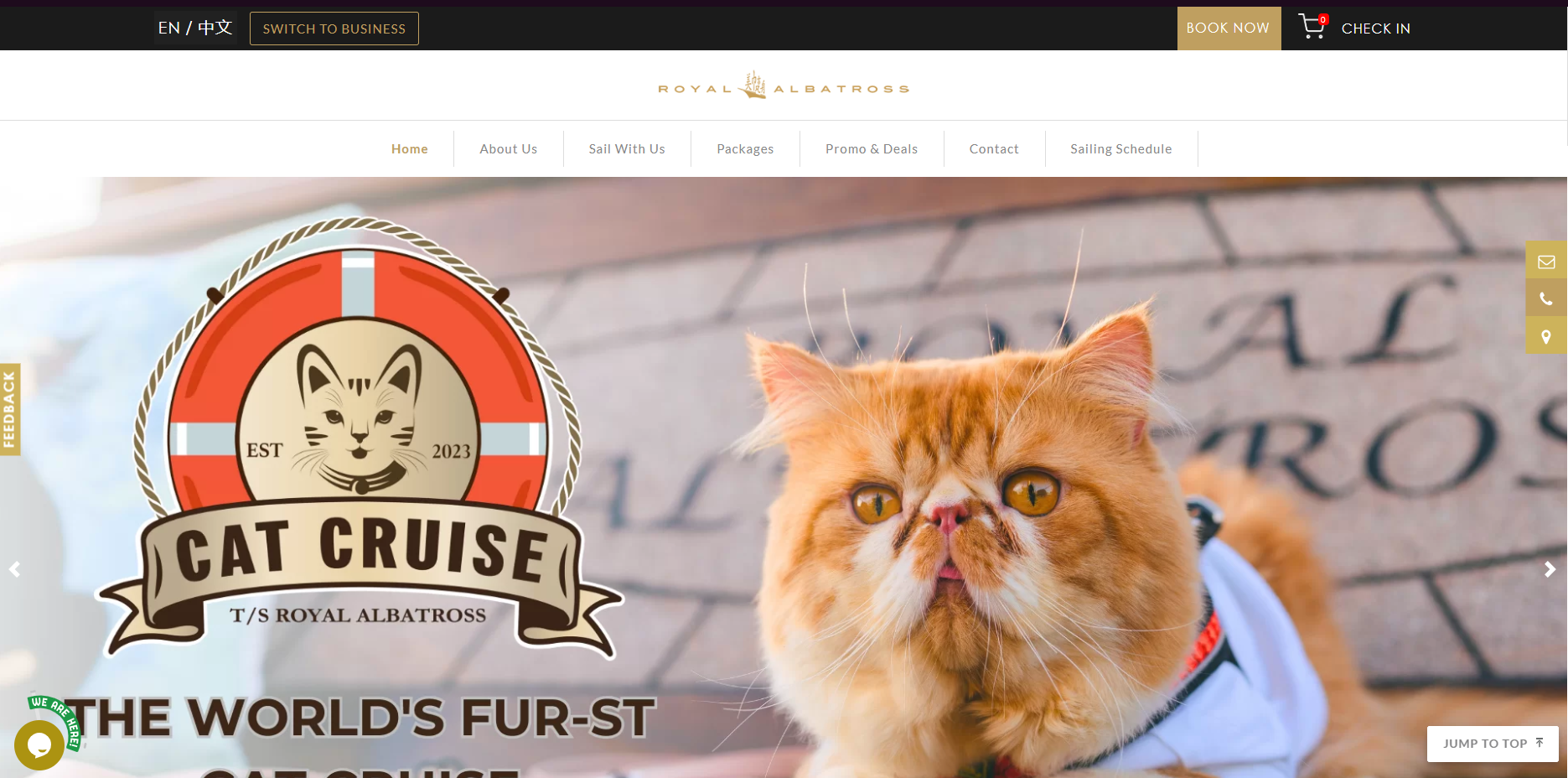 Experience the epitome of luxury and pet-friendly indulgence with the Royal Albatross - Luxury Tall Ship in Singapore! Setting sail on the City Lights & Sunset Cruise, this magnificent vessel offers a romantic dinner cruise experience like no other. Whether you choose the sunset or lunch option, you'll be treated to a delectable 6-course menu while taking in breathtaking sea views. But what makes this cruise truly unique is its dedication to pet lovers. The Fur-st Class Dining experience allows you and your furry friend to enjoy sponsored two-course meals by PetCubes during breakfast buffets and sunset dinners.

Even if you don't have a dog, the pet companion package allows you to rent a pup for a delightful dog cruise experience, offering the cutest way to pamper your pooch in luxury. And for feline enthusiasts, the world's fur-st Cat Cruise is an exclusive experience where your beloved cat takes center stage with a private cabin, sea views, and a gourmet dinner (for humans). Royal Albatross is not just pet-friendly; it's a haven for pet lovers seeking unforgettable moments with their four-legged companions along Singapore's stunning coastlines.
Basic Information:
Website: www.tallship.com.sg
Operating Hours: Open 24 hours
Address: 8 Sentosa Gateway, Singapore 098269
Contact Details: +6593507475/info@tallship.com.sg

2. Wanderlust Adventures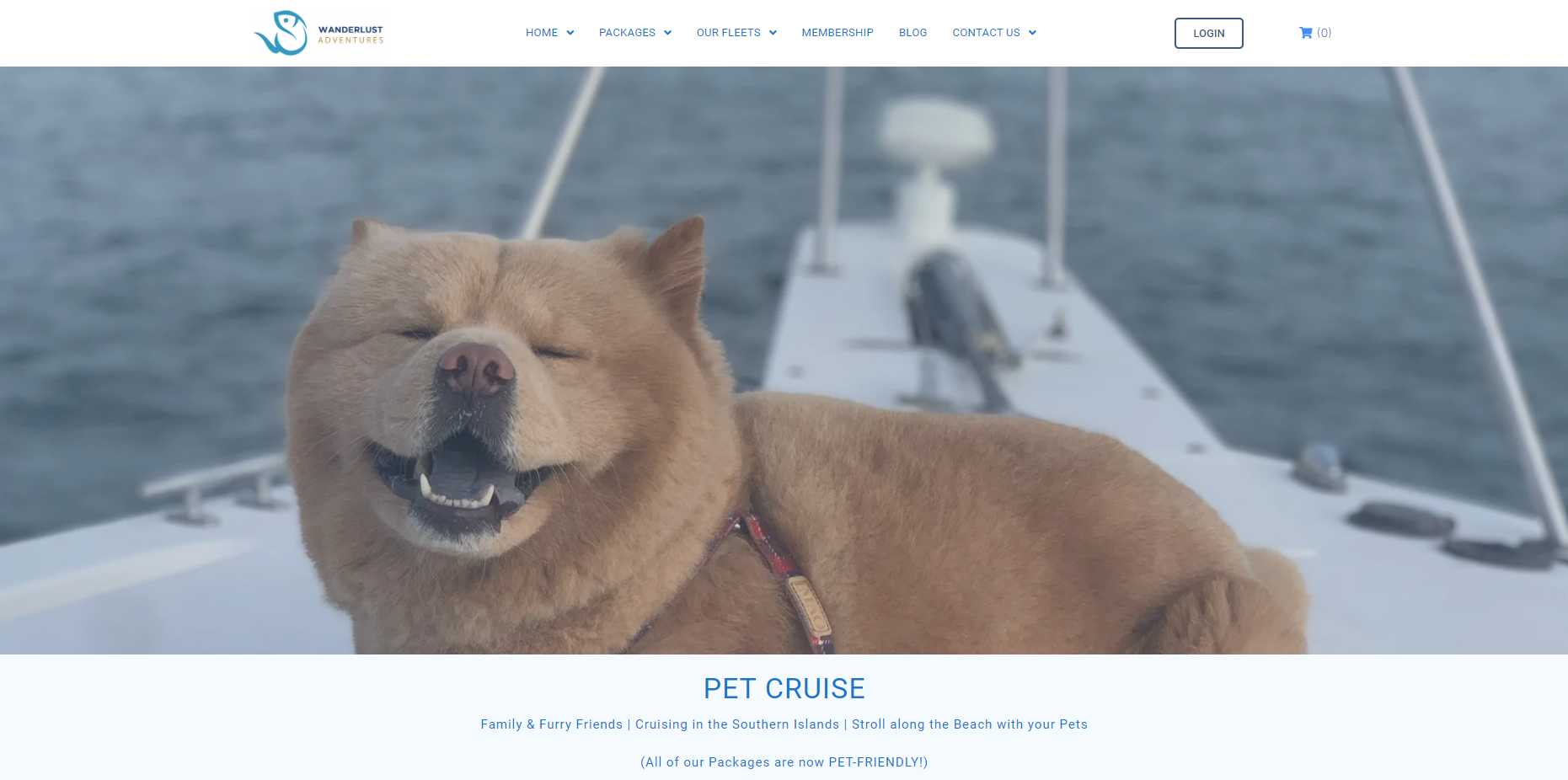 Experience the ultimate pet-friendly adventure with Wanderlust Adventures in Singapore. Now, all their packages for boat cruise are pet-friendly, ensuring that your entire family, including your furry friends, can join in on the fun. Cruise through the scenic Southern Islands and enjoy leisurely strolls along the pristine beaches with your pets by your side.

Wanderlust Adventures offers complimentary water activities such as kayaking, stand-up paddleboarding, and floating mats, guaranteeing hours of aquatic enjoyment for both humans and pets. From captivating Sunset Dinner Cruises to exciting Cook your Own Catch Charters and customized yacht rental packages, there's something for everyone. And if you've ever wanted to try your hand at fishing, they got you covered with their luxury fishing yacht charter led by a Captain. It's the perfect opportunity for adventure seekers to test their fishing skills in the picturesque southern islands of Singapore.
Basic Information:
Website: wadventures.com.sg
Operating Hours: Open 24 hours
Address: 1 Cove Dr, Singapore 098497
Contact Details: +6594766883/info@wadventures.com.sg

3. Pet Cruise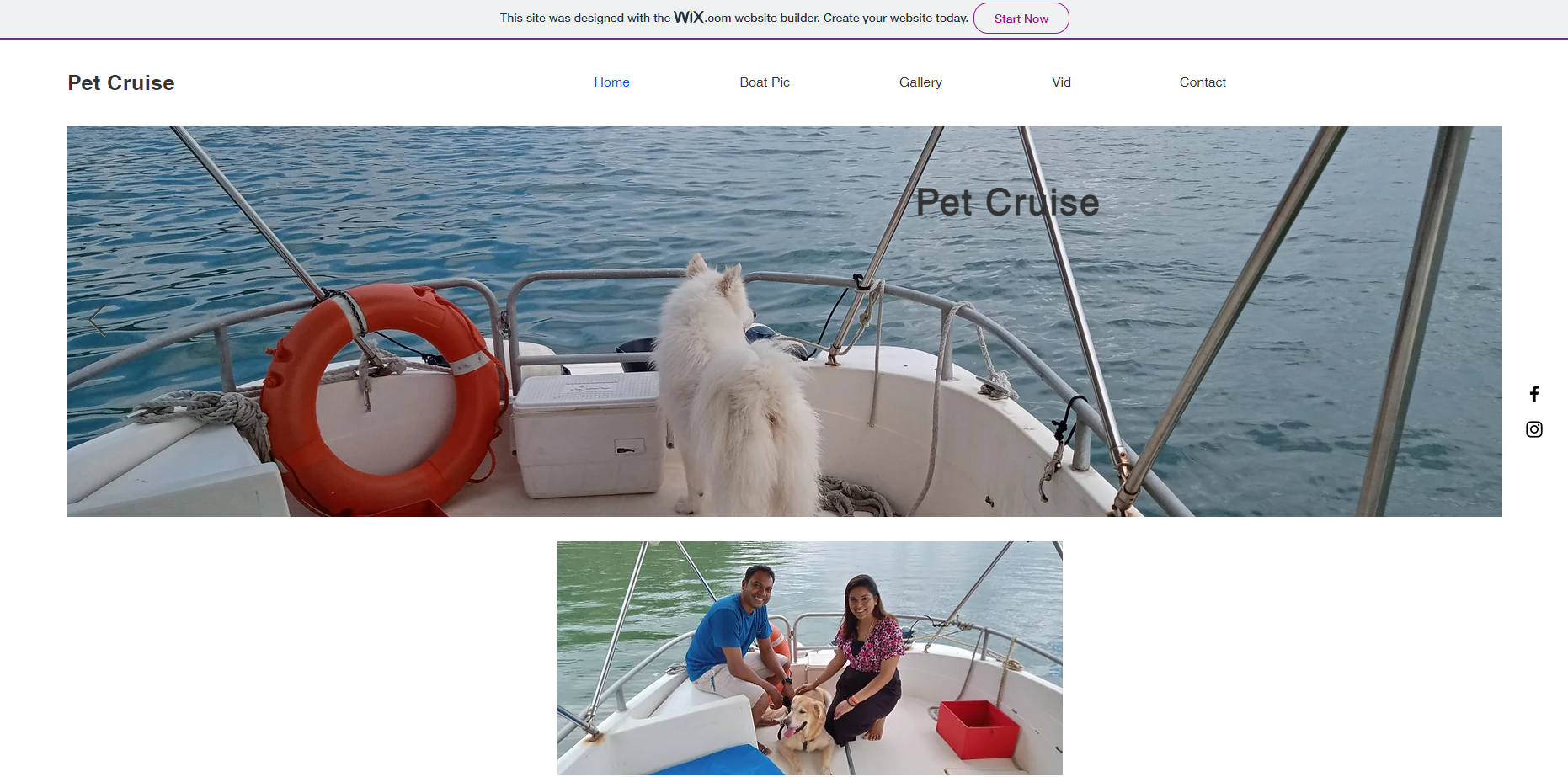 Discover an exciting and unique pet activity in Singapore with Pet Cruise, a must-try experience for pet lovers of all kinds. This one-of-a-kind adventure allows you to cruise, swim, hike, eat, drink, and celebrate with your furry, feathered, or four-legged friends.

Pet Cruise specializes in organizing boat cruises specifically designed for pets, and you can even take your beloved dog out for a two-hour boat ride like no other. With a friendly and accommodating host like Joe, your comfort and enjoyment are guaranteed. With safety in mind, Pet Cruise keeps an eye on the weather and ensures a smooth journey, dropping anchor just off the shore for a unique bonding experience you and your pet won't soon forget.
Basic Information:
Additional Tips
Before you and your furry friend set sail on a pet cruise in Singapore, it's important to be well-prepared. Here are some additional tips to ensure a smooth and enjoyable experience:

Check Pet Requirements: Before booking, confirm the specific requirements for pets on the cruise. Some cruises may have size restrictions, vaccination requirements, or other regulations. Ensure your pet meets these criteria.
Prepare Proper Identification: Make sure your pet has proper identification, including a collar with an ID tag that has your contact information. It's also a good idea to have your pet microchipped and ensure the contact information is up-to-date.
Pack Essentials: Bring along essentials for your pet, such as their favorite toys, food, water, and any necessary medications. Don't forget waste bags for cleaning up after your pet during the cruise.
Leash and Harness: Keep your pet on a leash and harness when on the cruise, especially during embarkation and disembarkation. This ensures their safety and the safety of others.
Comfortable Carrier or Bed: If your pet is small, consider bringing a comfortable carrier or bed where they can relax during the cruise. Larger pets can benefit from a comfortable mat or blanket.
Motion Sickness Precautions: If your pet is prone to motion sickness, consult your vet for advice on how to manage it during the cruise. Some pets may benefit from medication or special treatments.
Stay Hydrated: Ensure your pet stays hydrated throughout the cruise, especially if it's a warm day. Bring enough water for both you and your pet, and offer it regularly.
Mind the Weather: Check the weather forecast for the day of your cruise. If it's extremely hot or rainy, consider rescheduling for a more comfortable experience for your pet.
Pet Rest Areas: Familiarize yourself with the locations of pet rest areas on the cruise. These designated areas are where your pet can take a break and relieve themselves.
Socialization: If your pet is social, allow them to interact with other pets if the cruise provides such opportunities. It can be a fun and enriching experience for them.
Observe Pet Rules: Respect and follow all pet-related rules and guidelines provided by the cruise staff. This includes areas where pets are allowed and any specific instructions for their well-being.
Be Mindful of Others: Remember that not everyone may be as comfortable around pets as you are. Keep your pet well-behaved and be considerate of other passengers.
Conclusion
Sailing with your pet in Singapore offers a unique bonding experience and the chance to create lasting memories. These pet-friendly cruises ensure that you and your furry friend have a safe, comfortable, and enjoyable adventure. By also following these additional tips, you can ensure that both you and your furry companion have a safe, comfortable, and enjoyable pet cruise experience in Singapore. Book your pet-friendly cruise today and embark on an unforgettable journey with your beloved companion. Bon voyage!

Feel free to share this with your fellow pet owners who also wants to go on a pet cruise! You can also leave a comment down below about your pet cruise experiences, we would also love to read them!


Sign up to our newsletter down below & follow us on Instagram @sgsmartpaw to stay up to date with our weekly blog articles!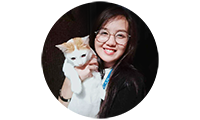 Rose Hazel San Diego
Hazel loves pets & she has owned cats, dogs, & even hedgehogs! She also fosters cats & dogs in need around her area. With her social media & copywriting background, she gladly shares her knowledge of pets through these articles!