Losing a beloved pet is a deeply emotional experience. Our animal companions become an integral part of our lives, offering unconditional love and companionship. When the time comes to say goodbye, we want to ensure that they receive a farewell that is as dignified and loving as the years they spent with us. In Singapore, finding the right pet cremation service is a crucial step in honoring your furry or feathered friend's memory.


Understanding Pet Cremation
Pet cremation provides a way to keep your pet's memory alive. It is an environmentally responsible choice as it avoids the need for traditional burial, which may not always be an option in urban areas like Singapore. It involves the careful incineration of your pet's remains, resulting in ashes that can be kept in a special urn, scattered in a meaningful location, or used in a memorial item like a piece of jewelry.
There are two primary methods of pet cremation:
1. Communal Cremation: In this method, multiple pets are cremated together, and the ashes are not returned to the pet owner. It is a cost-effective option for those who do not wish to keep the ashes.
2. Individual Cremation: Individual cremation ensures that your pet is cremated alone, and their ashes are returned to you. This allows for a more personalized and meaningful memorial.


Key Considerations for Choosing the Best Service
Choosing the right pet cremation service is a decision that deserves careful consideration.


Here are some key factors to keep in mind:

Location and Accessibility: Select a service that is located near you, making it easier for you to transport your pet's remains.
Reputation and Reviews: Read reviews and testimonials from other pet owners. Positive feedback is a good indicator of a trustworthy service.
Handling of Pet Remains: Inquire about the process of handling your pet's remains, ensuring it aligns with your wishes.
Pricing and Packages: Understand the pricing structure and available packages. It's important to find a service that fits your budget while providing the level of care you desire.
Additional Services: Some offer additional services, such as personalized urns, memorialization options, or grief support. Consider these offerings when making your decision.


Top Pet Cremation Services in Singapore
1. Mandai Pets Sanctuary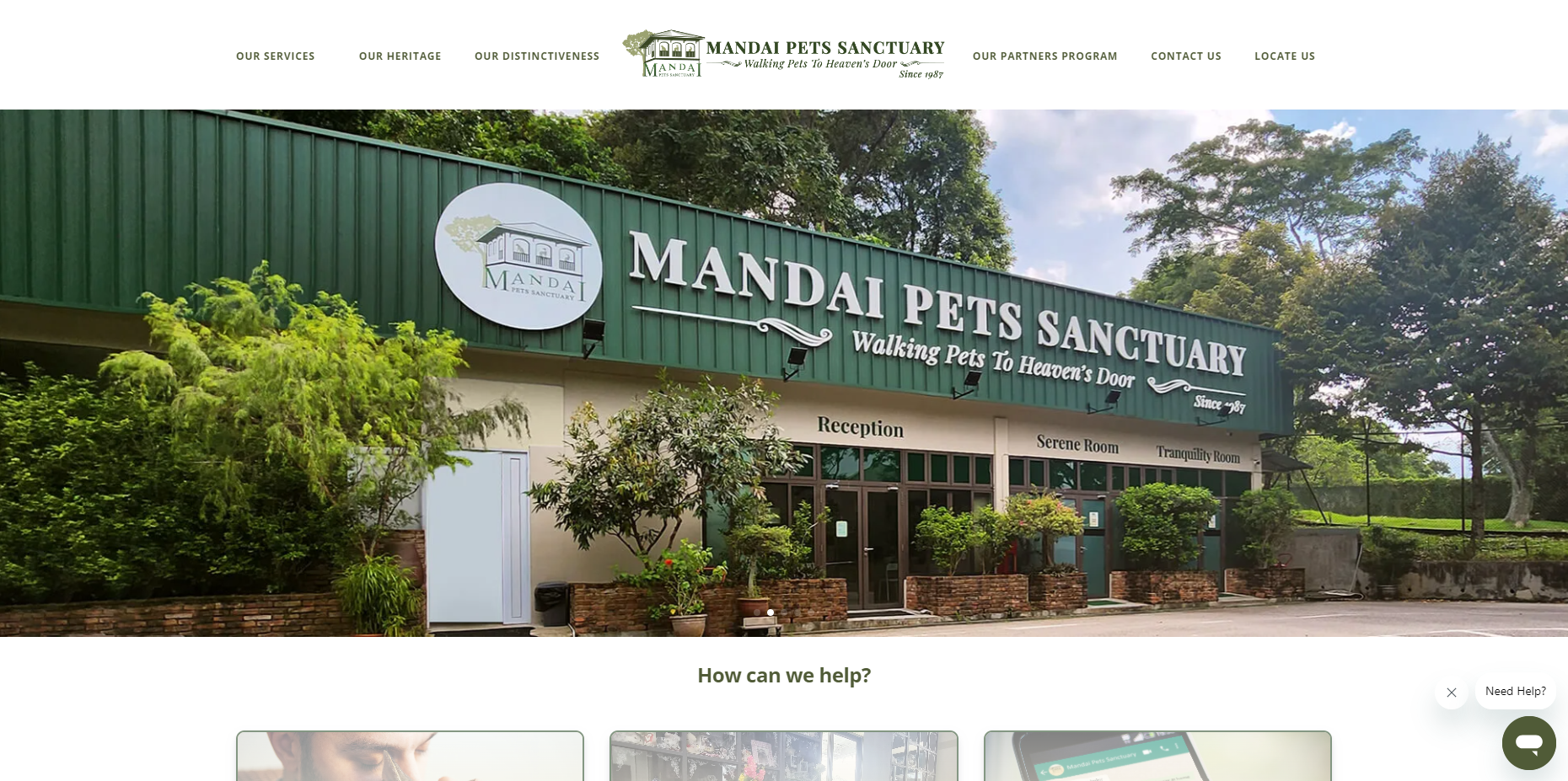 Nestled within the lush Mandai region of Singapore, Mandai Pets Sanctuary calls an iconic historical building home. They understand the deep pain that comes with losing a beloved companion, and that's why their mission is to provide a peaceful and dignified farewell for your cherished pets.
Saying goodbye to your pet is never easy, but at Mandai Pets Sanctuary, they offer comprehensive pet cremation services from start to finish. Beyond that, they provide dedicated columbarium niches for your pets to rest in honor. When words can't ease the pain of loss, take solace in the precious memories you've shared, and let them help preserve those memories with their range of services. Give your best friend the dignified farewell they deserve.
Basic Information:
Website: mandaipetssanctuary.com
Operating Hours: Daily (9AM - 5PM)
Price Range: Private Cremation: $160 to $695+; Partitioned Cremation: $53.50 to $374.50; Communal Cremation: $21.40 to $428
Address: 5 Mandai Rd, Singapore 779391
Contact Details: +6562326617
2. The Green Mortician Flameless Pet Cremation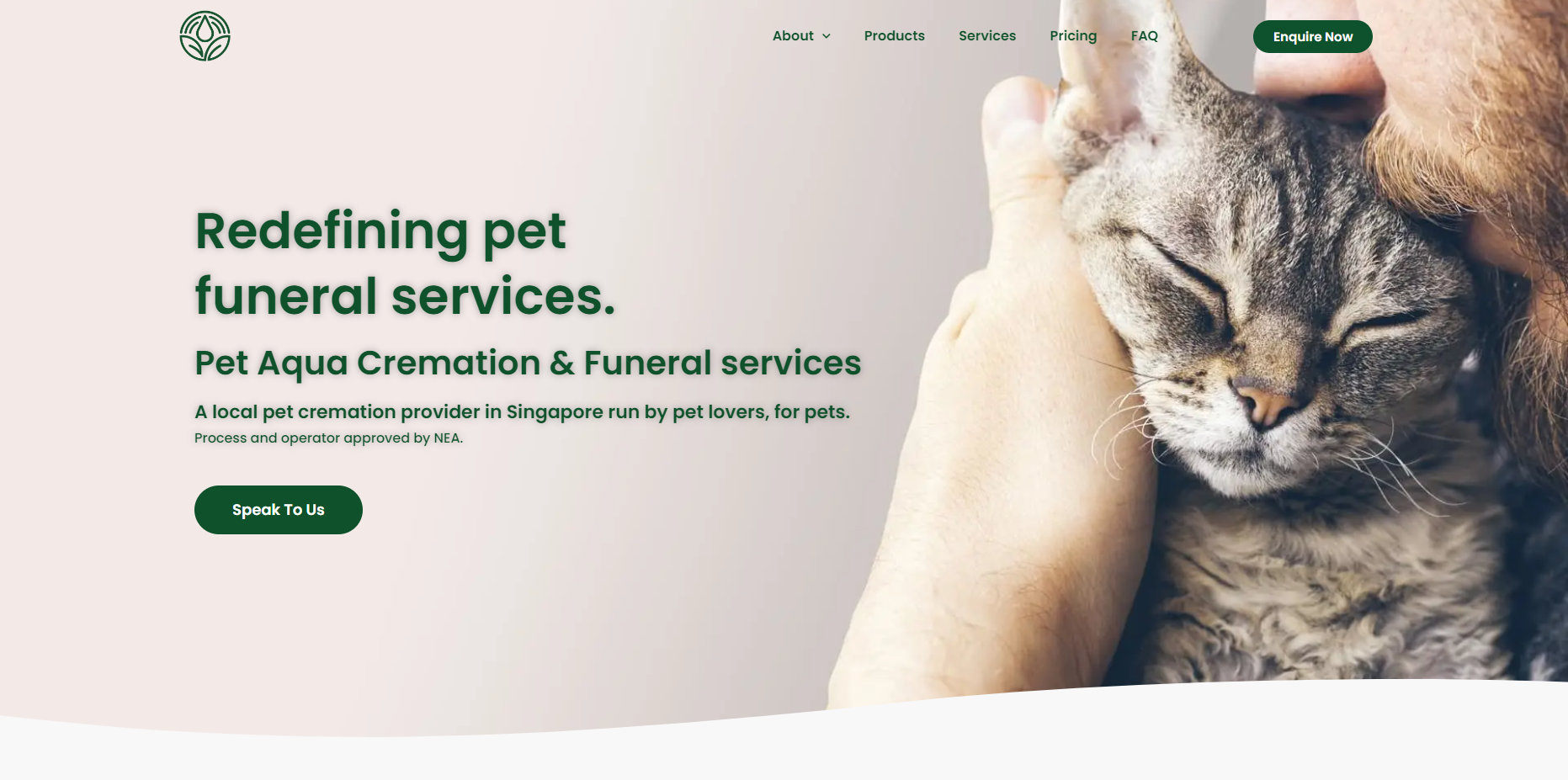 The Green Mortician is a local Singaporean pet cremation provider, run by dedicated pet lovers and approved by the NEA. They recognized the need for transparent, compassionate, and respectful pet aftercare services, which led them to create a process that honors your pets every step of the way, from pickup to aqua cremation to the return of ashes.
Their commitment doesn't stop there. They've transformed the way they memorialize beloved pets and loved ones. They offer a unique collection of handcrafted urns and keepsakes, including ash-holding jewelry and necklaces, designed to hold a special place in your heart and home. Each item is thoughtfully created to reflect the unique qualities of your cherished pet or person, allowing you to cherish the positive moments you shared.
Basic Information:
Website: thegreenmortician.sg
Operating Hours: Open 24 hours
Price Range: eco-mini (micro / mini pets): $477 / nett; eco (all pets): $877-1077/ nett; standard (all pets < 20kg): $1177/ nett; large (all pets > 20kg): $1377/nett
Address: 21 Toh Guan Rd E, Toh Guan Centre, Singapore 608609
Contact Details: +6588667374/hello@thegreenmortician.sg

3. Paws To Heaven
Paws To Heaven is a trusted independent pet crematorium in Singapore, proudly approved by NEA and NParks. Their specialization lies in private pet cremation and funeral services, complemented by distinctive pet memorial products.

At Paws To Heaven, they believe that every beloved pet deserves a loving and dignified farewell. Their compassionate local pet cremation service offers bereaved pet owners the peace of mind that their pets will be treated with the utmost respect, ensured by our 100% assurance tagging system. Their dedicated care team is committed to providing an honest, personal, and meaningful service, offering solace and peace of mind to bereaved pet owners during this difficult time.
Basic Information:
Website: pawstoheaven.com.sg
Operating Hours: Daily (7AM - 12AM)
Price Range: Private cremation: $588+ for Dignified package & $838+ for Rainbow package; Individual cremation: $220+; Communal cremation: $160+
Address: 81 Sungei Tengah Road, Singapore 699005
Contact Details: 8719 9991/9109 1060

4. Mobile Pet Cremation Services Pte Ltd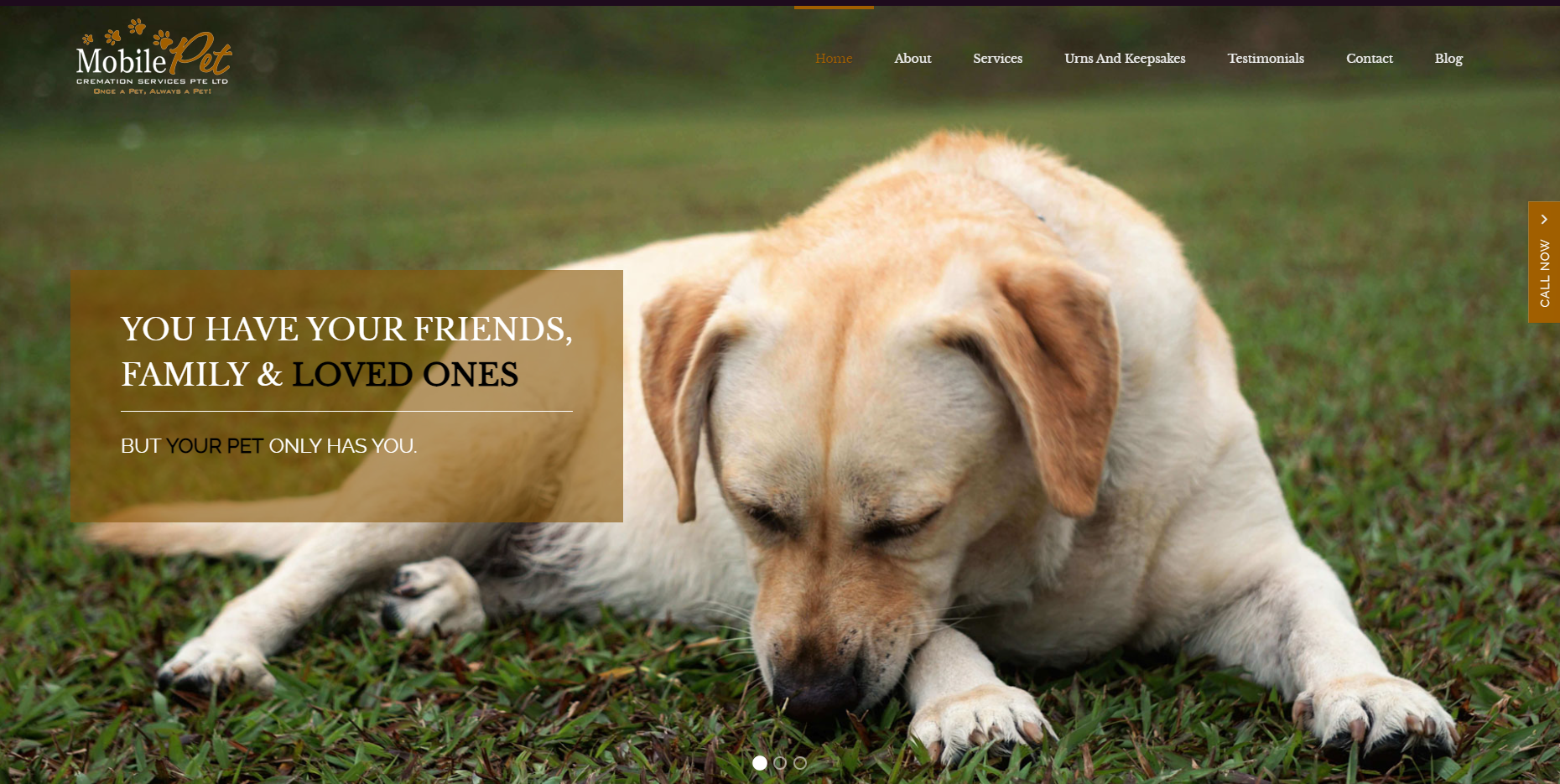 Pets are more than companions; they're family. They offer unwavering loyalty, unconditional love, and boundless affection. When the time comes to bid farewell to a cherished pet, the pain and difficulty of making arrangements can be overwhelming. As fellow pet owners, Mobile Pet Cremation Services empathize with the challenges you face during this time of grief. Their experienced and dedicated team is available 24/7 to provide prompt and professional service.

They offer pet cremation services to the public and local veterinary clinics, handling a wide range of beloved pets, from dogs and cats to birds, tortoises, and even fishes. You have two cremation options: Common Cremation (with other pets) and Private Cremation (individual). The cost varies based on your pet's size and the chosen option. They'll collect your pet, ensure a dignified cremation, and return their ashes to you, all with complete transparency and no hidden costs. Plus, upon request, they offer same-day cremation for your peace of mind.
Basic Information:
Website: mobilepetcremation.com.sg
Operating Hours: Open 24 hours
Price Range: Contact them for information
Address: 59 Sungei Tengah Rd, #01-58 The Animal Lodge Blk W, Singapore 699014
Contact Details: +6594556355/contact@mobilepetcremation.com.sg

5. Rainbow Paradise Pet Cremation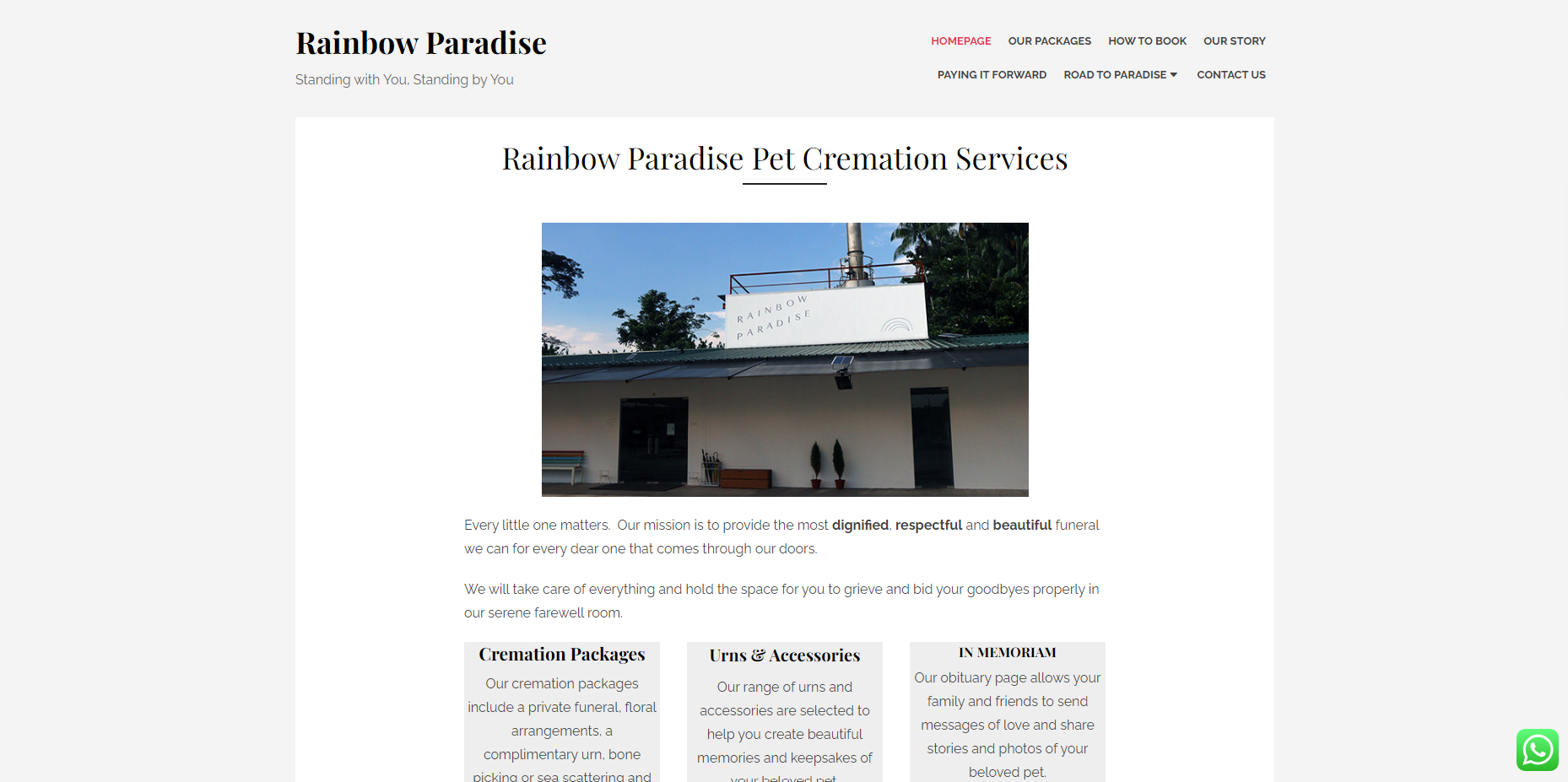 At Rainbow Paradise Pet Cremation Services, they understand that every cherished pet matters. Their mission is to provide the most dignified, respectful, and beautiful farewell for your dear companion, offering you a serene space to grieve and bid your proper goodbyes.

Their cremation packages cover everything you need for a private funeral, including floral arrangements, a complimentary urn, options for bone picking or sea scattering, and reliable pet transport services. Additionally, their selection of urns and accessories is carefully curated to help you create lasting memories and keepsakes of your beloved pet.
Basic Information:
Website: rainbowparadise.sg
Operating Hours: Daily (9AM - 9PM)
Price Range: Cremation fee: $138 – $588+
Address: 81 Sungei Tengah Rd, Singapore 699005
Contact Details: +6588627922

6. Sanctuary Pet Cremation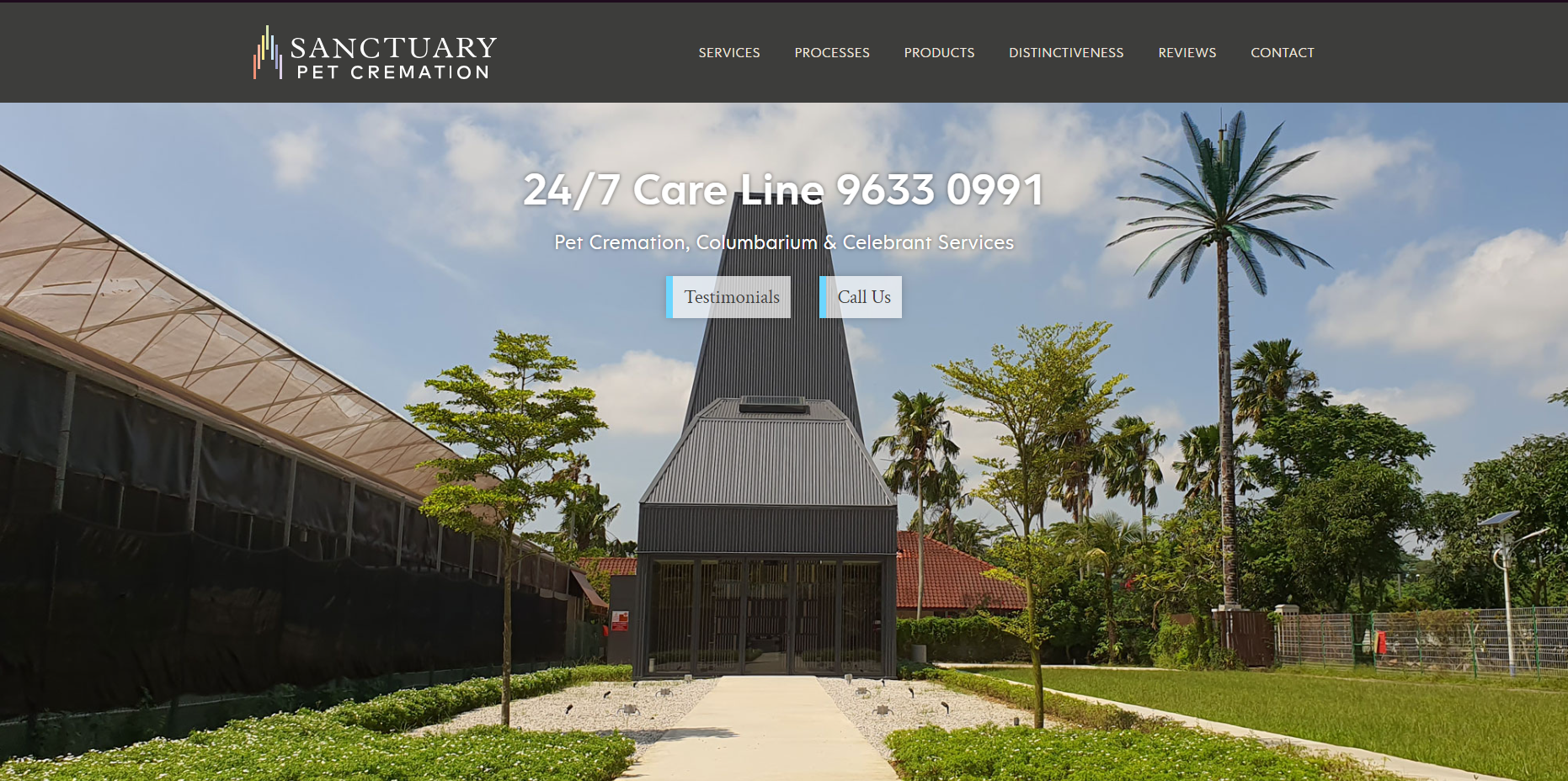 At Sanctuary Pet Cremation, they offer a comprehensive range of services to honor your beloved pets. Their offerings include private pet cremation, companion pet cremation, pet celebrant services, pet funerals, pet columbarium, sea ash scattering, and home visit euthanasia services.

They are committed to providing care and respect at every stage of your pet's final journey, from transportation and tracking to mortuary storage, pet cremation, and ash arrangements. Their distinctiveness lies in their automated hearth insertion system, which accommodates animal coffins, and their best-in-class automated cremation machine in Singapore, allowing you to hand-pick your pet's ashes just one hour after the start of the private pet cremation service. Sanctuary Pet Cremation in Singapore offers a peaceful setting to bid farewell to your cherished pets, knowing that one day, you'll be reunited at the Rainbow Bridge.
Basic Information:
Website: sanctuarypetcremation.com.sg
Operating Hours: Open 24 hours
Price Range: Cremation fee: $115 – $580
Address: 10 Neo Tiew Lane 2, Plot B & C, Singapore 718813
Contact Details: +6596330991/contact@sanctuarypetcremation.com.sg

Conclusion
Remember, it's okay to grieve, and choosing a reputable pet cremation service can provide a sense of closure and peace. It's essential to prepare emotionally for this process. Seek support from friends, family, or pet grief counseling services if needed.
Remember that your pet's memory will live on in your heart, and the right pet cremation service can help you cherish that memory for years to come.
Feel free to share this with your fellow pet owners who's also looking for the best pet cremation service. You can also leave a comment down below about a pet cremation service you recommend in Singapore, we would also love to read them!


Sign up to our newsletter down below & follow us on Instagram @sgsmartpaw to stay up to date with our weekly blog articles!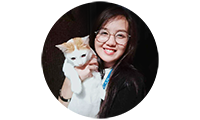 Rose Hazel San Diego
Hazel loves pets & she has owned cats, dogs, & even hedgehogs! She also fosters cats & dogs in need around her area. With her social media & copywriting background, she gladly shares her knowledge of pets through these articles!