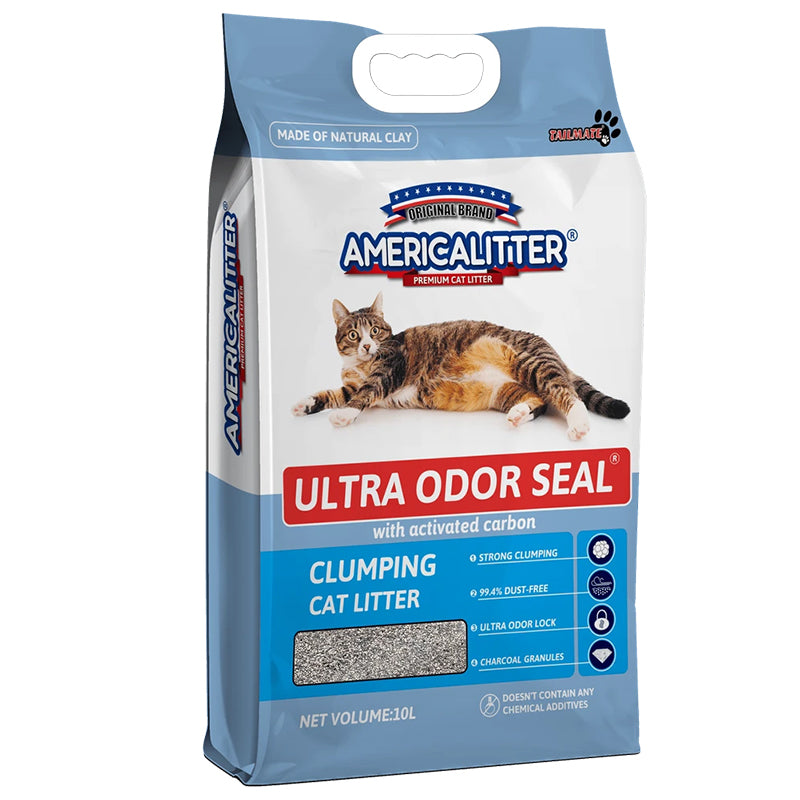 American Cat Litter Clay/Sand Ultra Odor Seal Unscented (10 Litres)
---
American Cat Litter ULTRA ODOR SEAL® is a higher quality clay/sand cat litter which can lasts much longer compared to other cat litter in the market making it more economical too.
ULTRA ABSORPTION thanks to trademark special bentonite formula
NATURAL PRODUCT Contains ZERO chemical additives, safe for your cat and cat owners like you
Heavy granules and low dust level resulting in less mess
STRONG CLUMPING CLUMPS once contact with urine
ULTIMATE ODOR SEAL Seals urine odor instantly
SAVE MORE MONEY as one bag can lasts up to 40 days
Fast shipping
Place your order before 12pm and receive it in 1-2 days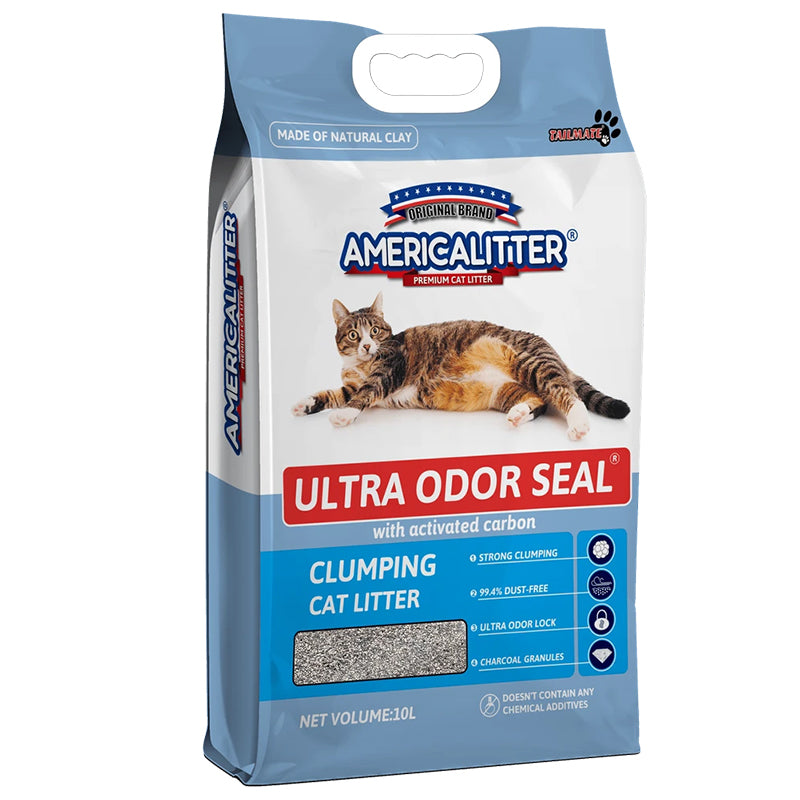 Why Choose American Cat Litter?
ULTRA ODOR SEAL® was created with the consideration of any possible drawbacks of other cat litter types in the market. We have developed this cat litter by improving all necessary aspects for making it effective in functioning and comfortable for cats to use.
Ingredients: Made from natural clay/sand
Size: 10 L
Instructions
Fill your cat litter box with about 7cm to 10cm of American Sand Cat litter. 
Once contacted with urine, the American Sand Cat Litter quickly forms a clump. After that, you can remove the clumps and solids daily and dispose off in the trash. 
Add more American Sand Cat Litter and maintain the height level to about 7cm to 10 cm. 
After every month, you will need to dispose off the cat litter inside the cat litter box and top up with new cat litter.
This product is rated 5.0 of 5.0 stars.
It has received 4 reviews.
americalitter
Been using this americalitter as cat have no issue using it and she love it. No mess and easy to use.
Americalitter is good and it is odorless. It absorbs and clumps well, easy for me to clear the litter too. It also absorbs the smell from the litters, the clumps does not break easily when I clean up, no mess. Good product.
Great
Litter sand was good and odorless. It absorbs the smell from the litter box well and strongly clump and doesnt break easily. Love it
Works as advertised
Quick and easy to use. My cat does not have any issues using this brand. Clumps well unlike other brands.
Thank you for your amazing review of our product over at www.sgsmartpaw.com. We greatly appreciate your support and feedback.
At Smartpaw Pet Store, we are committed to delivering exceptional products that meet and exceed our customers' expectations. Your satisfaction is our top priority, and we're thrilled to know that you are enjoying your purchase.
Thank you once again for choosing Smartpaw!
Good product
I have tried other litter product and by far, this is one of d better product compared to others in the market. Will stick to using americalitter from now on.
Dear customer, thanks for the kind feedback! Glad that you liked it.