Compare
Automatic Cat Litter Box
Compare our popular automatic cat litter boxes.
Cat Litter Compatibility
All types of cat litters including tofu, wood, clay, corn, pine, etc.
Dimensions
63.5 x 58.42 x 53.34 (cm)
Time to Change Cat Litter
Waste Bin Position
Bottom waste bin (more convenient)
One-Touch Button to Empty All Cat Litter
Testimonials
Impressive Cat Litter Box For Cats
just opened it and surprised at hw spacious the inside is! def can fit my fat cat! comes with litter mat & litter, which is a nice surprise.. and also a pair of deodoriser ! excited to let my cats try it!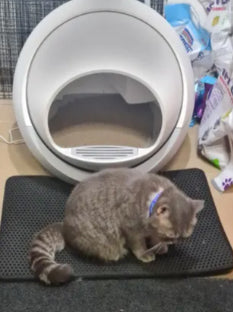 Fast Delivery & Good Service
Item came already assembled. Just plug on and its ready to go. Fast delivery and product works fine.
Cat Litter Box For All Cats
Item very bulky. Came with mat and litter. Seller was very helpful also