Spending time with our dogs is always great fun, but most of us have to work on weekdays. Unfortunately, that means that our beloved pet dogs have to be left alone at home while we're out at work. No matter what breed or age your dog is, he or she will always miss you when left home alone. Think about it: If you miss your dog over the course of the day while you're busy at work with friends and people surrounding you, what more your dog who is all alone with no one else around?

Image Credits: Pixabay
It's not easy for us to leave our dog home alone; even after many years of going out daily to school and work, we feel guilty seeing those sad puppy eyes and whiny begs crying out at us to stay at home with them. As much as we'd love to give in to them, we often have to leave our dogs home alone much more often than we would have to.
The question then is, what can we do for our home alone dogs to make them feel more comfortable and at ease? We share 5 simple tips that you can take note the next time you have to leave your dog at home alone!
1. Keep your dog busy and entertained
One good way of minimizing the agony of being home alone for your dog is by providing them with various engaging toys and activities. The most common form of entertainment is to have their favourite toys available for them to play with when they're home alone. Alternate between a range of toys every day to keep them interested and excited - because they get different toys which appeal to them in different ways everyday!
Another thing to do is to plan a mini 'treasure hunt' around the house. Hide their favourite toys, and some bonus treats together with the toys all over your home. When your dogs are bored, they usually walk around and sniff around the house. That's when things get fun for them, because they'll discover the hidden toy and treats! This is a form of mental stimulation, simultaneously motivating them to walk around more often in the hopes of finding another treat. It's important to remember that you should never leave out treats that require supervision while eating, especially hard chews and treats with sharp, pokey edges (e.g. spare ribs).

Image Credits: Jay Wennington
2. Create a safe space for your dog
When your dogs are at home alone, they need a safe space to retreat to for resting as they impatiently await your arrival home from work. Set up a dedicated area within your house that belongs exclusively to your dog, and place lounging structures such as a dog bed, crate or even a mini tent or teepee for him or her to sit in. You should also place your dog's water and food bowls/dispensers within this safe space, creating the association of a space that provides both comfort and basic necessities.
Providing this safety zone for your dog creates a sense of security and assurance for your dog, helping them to spend the day alone.

Image Credits: Zack Dowdy
3. Tire your dog out before leaving him home alone
Have you been on those long weekend outings only for your dog to fall asleep so quickly on the car or once they get home? You can replicate the same experience for your dogs on weekdays, all it takes is a bit of morning exercise such as a quick morning job or even some off-leash running if you live close by to a dog run or dog park! The physical exercise your dog gets can burn energy, and tire your dog out such that he's likely to simply fall asleep after you leave for work! Morning exercise is also a great way to kill two birds with one stone - you and your dog can stay fit through exercise, and you tire your dog out so he'll want to rest when he's home alone!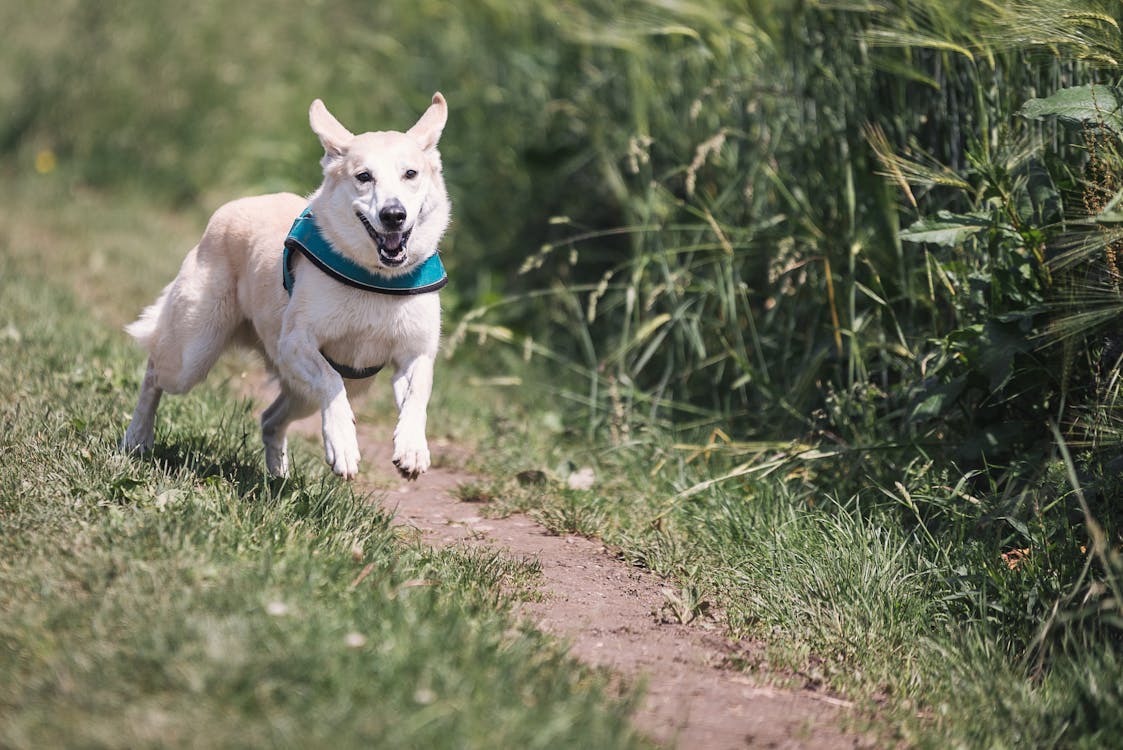 Image Credits: Pixabay
4. Stay in 'contact' with your dogs
Even though you can't be physically together with your dog, there are other ways to stay in 'contact' with him or her! Leave your dirty clothing in your dog's safe space, so that he has a way to feel connected with you. Everyone knows that dogs have a much more sensitive sense of smell than humans, and this sense of smell extends to how it affects their formation of associations with things around them. When your dog smells a clothing with your familiar scent, he feels more at ease.
Also, don't we often wonder about the secret life of our dogs when we're out and they're home alone? Another way to stay connected is through placing a pet camera so you can find out what your dog is up to when left alone at home! Most pet cameras today have 2-way audio and night vision, so you can tune in to a live feed of what your pet is doing anytime, anywhere! When getting your pet cam, remember to get one with 2-way audio such that you can talk and listen to communicate with your pet! Pet spycams are also good for you to monitor your pet's behaviour when they're alone, so you can check if they're drinking enough water or acting strangely.

Image Credits: @bobbi_pang
5. Appropriate coming home greetings
Finally, tone down on your departure or arrival home. It's always exciting for both you and your dog when you finally reunite after a long day apart, but remember that your actions and behaviour will affect your dog. If you make a big deal and behave over-enthusiastically, your dog will feel like being left home alone is not a good thing. Instead, you should keep your "bye"s and "hello"s calm and controlled, so that your dog doesn't feel that being left alone is something upsetting, but instead something acceptable.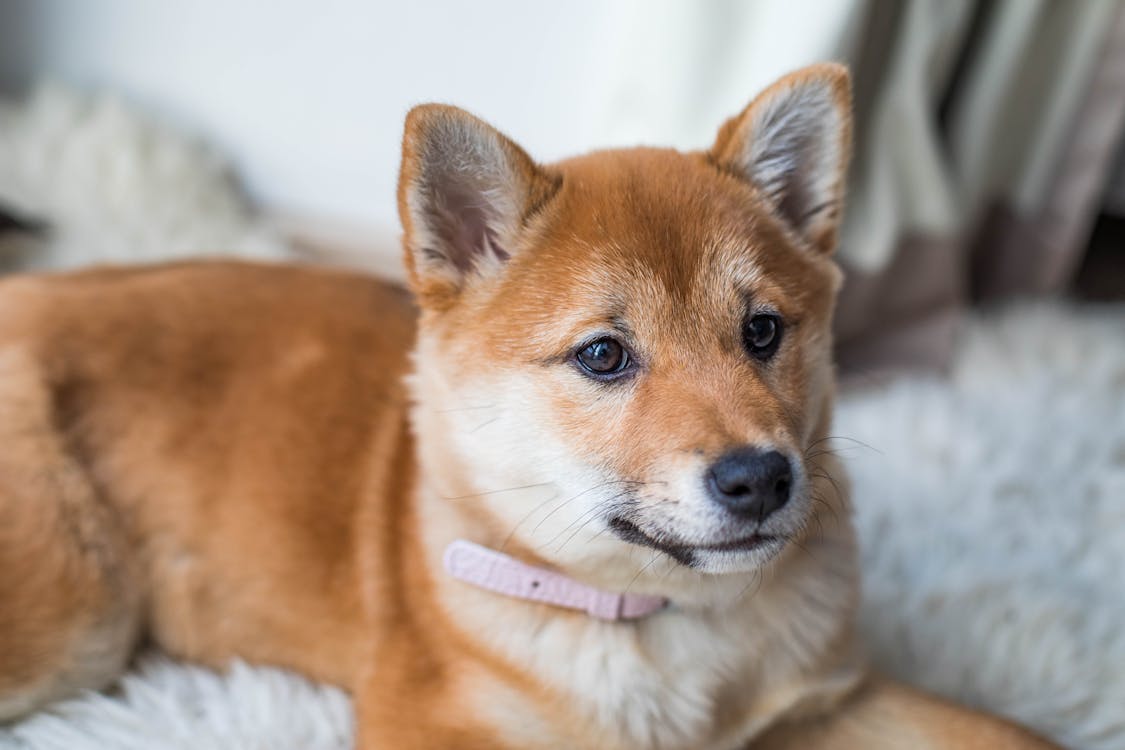 Image Credits: Valeria Boltneva
While there are ways for you to help your dogs when they have to be home alone, bear in mind that they shouldn't be left alone for prolonged periods of time. Ideally, adult dogs should be left alone for at most 4 hours, especially if they are grass-trained and don't do their business indoors. If your dog is not the clingy and needy type, experts say that the maximum time allowed is no more than 8 hours. Puppies under 6 months should also never be left alone for any more than 2 hours if necessary - consider getting a pet sitter to stay with them as they grow during their developmental stages!
We know that leaving your dog home alone is never easy, but with the appropriate small actions and behaviours you take, it makes for a better experience for your dog! Over time, once your dog gets used to being home alone while you're out at work, his behaviour will also become more relaxed and calm. That's the optimum situation we can hope to have in the long run. One thing's for sure - I don't think any of us pawrents will ever get used to leaving our beloved puppers home alone, so treasure every moment and make the most of all your time with them!