We have to put in mind that all cats are different in lots of ways. This maybe applicable to their appearance, their behaviors, and even their diet! As a loving fur parent, providing the right nutrition for your precious kitties is something we should take seriously! Cats need proper nutrition too and can't depend on dry food all time.

Some might think that making homemade cat food seems like an unnecessary amount of work, isn't it? But there are actually lots of good reasons to cook your kitty's meals. One of the benefits having complete control over the ingredients that you use. This is great for cats that have dietary sensitivities, food allergies, or intolerance. Making your own cat food will help to avoid your cat's triggers. A sick cat may also be enticed to eat a homemade food when they refuse to eat their usual dry food.
And since you make it yourself, you can even budget and save some money than buying pet food that could cost more. And don't worry, these recipes are actually not that hard and cooking for your precious kitties would even feel so rewarding! But of course, be sure to consult the vet first to know whether this recipes are a perfect fit for your kitty's diet at the moment. Making your own cat food should have the right balance of ingredients, vitamins and minerals, and proper storage of food are critical things you need if you choose to cook food for your precious kitties.
Here's some vet-approved homemade cat food recipes that you can easily make at home for your kitties:

1. Kitty's Breakfast
INGREDIENTS:
1 tablespoon nonfat dry milk
3 medium eggs
3 tablespoons cottage cheese
2 tablespoons veggies (grated)
INSTRUCTIONS:
Mix together the milk powder with a small amount of water.
Add the eggs and beat well.
Pour the mixture into a small non-stick frying pan and cook on medium-low heat until done.
Flip over like a pancake and spread the cottage cheese and veggies over half of the cooked surface. Fold like an omelet. Cool and cut to bite-sized pieces to serve.
2. Chicken and Greens
INGREDIENTS:
3 lb Quartered Roasting Chicken
4 cup Water
1/2 teaspoon Salt
2 piece Celery stalks with leaves
1 cup Carrots, finely chopped
2 tablespoon Parsley flakes or 1/2 cup chopped fresh parsley
1/2 cup Barley, uncooked
1 tablespoon Lemon juice
3 teaspoon Brewer's yeast
5 ounce Thawed and drained chopped frozen spinach
1 cup Fresh green beans, chopped
INSTRUCTIONS:
Place chicken, salt, water and the celery leaves in a large stockpot or slow cooker. (Save the celery stalks.) Cover, bring to a boil. Reduce heat and simmer for 1 to one and a half hours or until chicken is tender.
Remove chicken and strain broth into a bowl. Chill broth in refrigerator until top is covered in fat. Skim fat.
Remove fat, skin, and bones from chicken. Discard. Cut meat into bite sized pieces. Set aside.
Return broth to pot. Add chopped celery with carrots, barley, brewer's yeast and lemon juice. Cover and simmer 20 minutes.
Add chicken, spinach and green beans. Cook 15 more minutes until beans are tender. Cool and serve. It will keep refrigerated for one week or frozen for a month in an airtight container.
 3. Mackerel Recipe
EQUIPMENT:
INGREDIENTS:
1 cup  canned mackerel
1 tbsp sunflower seed oil
1 tbsp organic cooked brown rice
1-2 tbsp water or broth (chicken or beef)
INSTRUCTIONS:
Combine all ingredients in food processor.
Puree until blended.
It is best if served immediately but you can refrigerate the leftovers up to three days.
4. Almost-Spot's Stew
INGREDIENTS:
1 whole chicken (preferably "free-range" or packaged with "no hormones or antibiotics" on the label)
2 cups brown rice
6 stalks celery
8 carrots (scrubbed but not peeled)
2 or 3 yellow squash
2 or 3 zucchini
1 small broccoli crown
handful of green beans
INSTRUCTIONS:
Wash chicken, then cover with water in a large stew pot.
Cut vegetables into pieces and add to pot.
Add rice.
Cook until chicken almost falls off the bone and vegetables are tender.
Completely debone the chicken. This is extremely important, as cooked chicken bones can splinter and cause serious intestinal damage.
Pour the stew into a blender and blend or chop until mixture is coarse (about bite-sized).
Freeze in meal-sized plastic bags.
5. Turkey Delight for Cats
INGREDIENTS:
1 1/2 cups water
1/2 tsp iodized salt (optional)
2 teaspoons corn oil
1/2 cup brown rice, uncooked
1/2 pound raw turkey giblets, chopped into kitty-bite-size pieces
1/4 cup carrot, chopped fine
1/2 cup chopped spinach
INSTRUCTIONS:
Combine salt, oil, and water and bring to a boil. Pour rice in boiling water, lower heat, cover and cook for 10 minutes. Stir in turkey giblets, carrot, and spinach. Cover and cook on low heat for another 10 or 15 minutes.
Cool and serve.
Yields 4 to 5 servings.
Store unused portions in an airtight container and keep refrigerated.
Conclusion
If you plan to make these recipes for your precious kitties, please make sure to follow them as they are, ingredients and all! Also consult your vet first and ask for their advice especially if your kitty has medical issues. Keep in mind of the foods your kitty should never ever ingest like chocolate, bread dough with yeast, alcohol, coffee, citrus fruits, coconut, dairy, grapes, raisins, nuts, raw eggs, raw fish, salt, and raw or undercooked meat for these foods can make your cat really ill.
It may be a time consuming to cook for your cat but isn't it worth the time and effort if it will ensure that they'll get the optimal nutrients they need and have a long life? Remember that this will surely pay off in the long run. Get ready to see your kitties enjoying good health (and yummy foods!) and a life free of illnesses!
Feel free to share this with your fellow pet owner friends who might need some of these recipes! You can also leave a comment down below about some recipes you'd like to recommend, we would also love to read them!
Sign up to our newsletter down below & follow us on Instagram @sgsmartpaw to stay up to date with our weekly blog articles!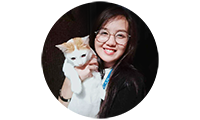 Rose Hazel San Diego
Hazel loves pets & she has owned cats, dogs, & even hedgehogs! She also fosters cats & dogs in need around her area. With her social media & copywriting background, she gladly shares her knowledge of pets through these articles!