Ultimate Smart Pet Feeder
Want to check and talk to your pet while you're away from home? SMARTPAWBurpurr Ultimate Smart Pet Feeder is the one for you! You can't only schedule feeding time, but you can also communicate with your pets at home via Pet Partner app. A perfect pet gadget for your smart home!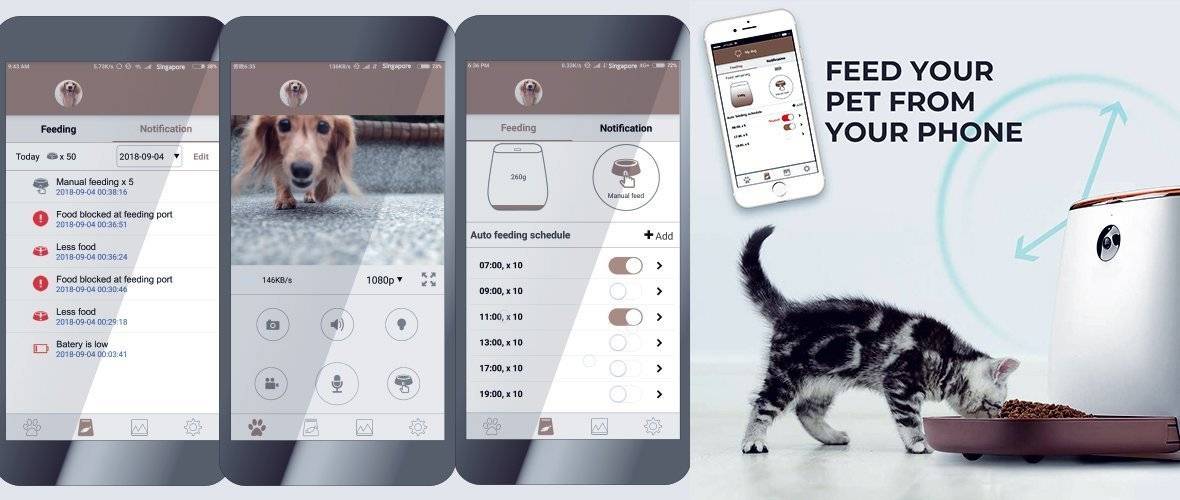 Plan your feeding schedule anytime/anywhere as long as you are connected to an internet connection! Customize up to 12 meals per day and up to 99 portions ( 1 portion is about 5g ) per meal with our Ultimate Smart Pet Feeder! This is an upgrade compared to the previous models as you can now feed smaller portions and more meals time catered for small kittens and larger dogs!
High-Resolution Camera With Night Vision and 2 Way Audio
Equipped with a 1080p full HD resolution for pet owners to monitor their pet in vibrant colors. It's 140° viewing angle will be able to capture most of the details. Integrated with 2- way audio for pet owners to talk to their pet and listen to what is going on at their house.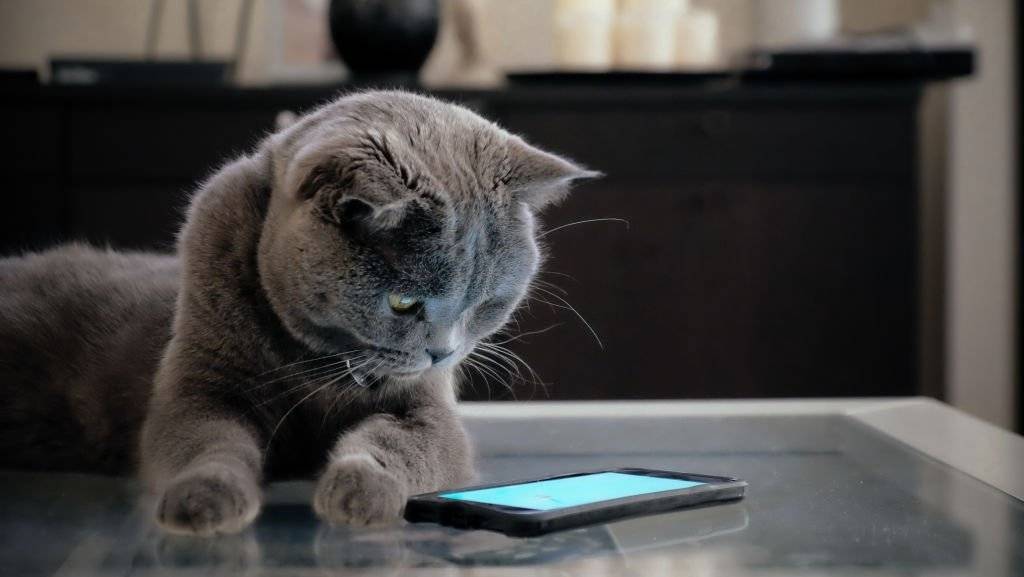 Smart sensor is also a plus point as it is able to monitor the pet food left in the food tank, sending a notification to your phone. If your pet didn't eat the food, you will also receive a notification.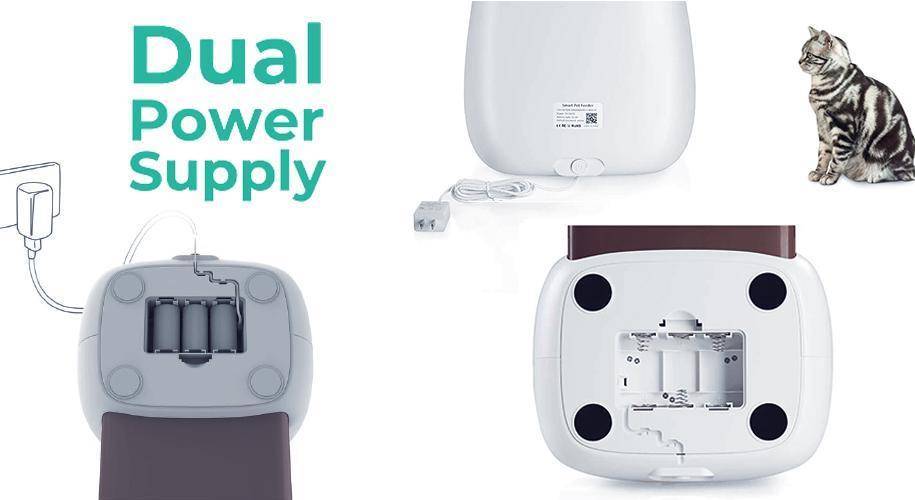 The dual power supply will ensure your feeder still dispenses food according to the pre-scheduled programming during a blackout situation. Simply insert three sized D batteries into the battery compartment which can be found at the bottom of the feeder. However, it is still recommended to use AC power to power up your pet feeder as, without the ac power, you will not able to use the APP & Cam functions.
Easy To Clean + High Stability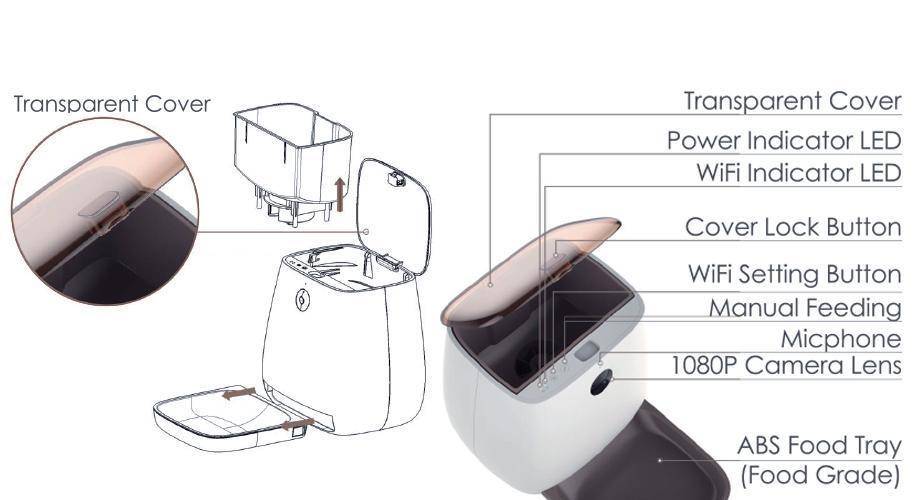 Cleaning is fuss-free as the only 2 places you need to wash are the food tank and food tray. The physical shape of this pet feeder is slightly different from others, the base of the pet feeder is larger giving it a lower center of gravity improving the stability compared to previous models.
Dimensions: 27cm X 21cm X 29cm
ABS material, eco-friendly
Dry food, diameter 5-15mm
Manual / Auto timing feeding
2.0MP HD camera, night vision
12 meals / day, 99 portions / meal
< 250g less food notification
Support Max.128GB microSD
3D-cell batteries (not included)
Note: You can only pair the smart pet feeder using 2.4ghz
1. Turn the SMARTPAWBurpurr smart pet feeder upside down, insert the power cord, insert food tray, and turn it on. ( Blue light on )
2. Download the app: Pet Zero ( Available in both android & ios )
3. Make sure you are connected to your house wifi 2.4ghz, on your gps location, Bluetooth and off your mobile data.
4. Open the app, press add a new pet feeder. Scan with QR code. If you are unsure, please watch the video above.
If you are still unable to pair the SMARTPAWBurpurr Ultimate Smart Pet Feeder :
Perform a Hard Reset by pressing and holding the 2 buttons simultaneously on the panel itself
Note : To Re- Pair an existing device, you will need to remove the existing device on the app first and re-add it back. ( This situation is common for users that recently changed a new wi-fi router. )
Best Automatic Pet Feeder!
1. Easy set up
2. Reasonable price for a feeder with camera. Video is crystal clear
3. Considerably big capacity. No need to topup so often. App will give notification when food is running low
4. Not limited to X number of feeding schedule like other pet feeder which is a good thing when you have cats that eat small frequent meals in a day
5. Customer service was tip top! Came very last minute when they're closing but was still serve well
I'll be returning again to get another one! 😉
Mun&Ku's Amazing Food Master
It's been an amazing experience with Smart Paw's Burrrrpurrrr Smart Feeder. We've decided to train both our boys to rely on automatic feeding for couple of reasons. First and foremost, we want them to have a feeding routine. We aim for them to eat a specific time and exact amount of food. That being said, challenges present itself when we have things to do like social gatherings or outdoor sports. It's also very challenging when at 6AM, both of them on top of my head purring and asking for food! LOL Secondly, when travel is possible again, we would like to have the convenience of being able to leave them at home for a day or two without having to worry if everything they are doing okay or not. We've had it for about a week now and we are so happy how we need not worry about anything anymore. The plate is of great size that the boys can eat together at ease. It's very easy to set-up as well. Food portion is fantastic (you just have to weigh the portion to be able to determine the exact amount of food you want to give your furbies per feed) We have yet to leave them alone for a day or two, but so we are confident that everything is gonna go well when time comes! Oh, of course... the camera quality is AMAZING even in low lit set-up!
Good product
Been away for 4 days 3 nights for a getaway and I've relied on the pet feeder to watch and scheduled feed my cat. Really easy use and reliable.
Amazing product!
I got this product for my 2 cats, who I often leave at home by themselves when I'm out at work, out at the gym or riding, or having a late night out. I can check on them, and also feed them when I want to. I have set up schedules but occasionally, I would give them extra feeding and interact with my cats. It is extremely easy to set up, and looks amazing too. The food stays fresh, and does not attract vermin or ants. The lid stays shut, and the cats can't open it. In short, this product is almost perfect. If I can have one wish, it's to get it to work with Google Home ;-)
Great Feeder
Really convenient to use as I can feed my puppy remotely. Also great when I am too lazy to get up from my couch and prepare his food. The camera is useful as I can check on him frequently to see if he is alright.
One issue though is the alexa skill is no longer available. Are there plans by the manufacturer to link it once again with amazon?